KOAL CLASSIC LONGBOARD
$699.99
The Sunday cruise special got some new upgrades.
The Hang Ten Longboard
This longboard wakesurfer is wrapped in wood laminates and sports a full rail, giving you a stable, easy going cruiser.
THE ULTIMATE TOES ON THE NOSE HANG TEN LONGBOARD.
Sometimes we need those days and a product to remind us all of why there is no feeling like riding sideways on the water. The longest running surf constructed board in our range. New for 2023 we sharpened the rail in the back quarter section of the board. Without sacrificing that that stable, easygoing, soul turn feel - now it just has more top water speed. Chase the endless summer with a classic Waikiki inspired hang ten special.
PERFORMANCE
ALL LEVELS
CONSTRUCTION
KOAL CLASSIC
The building block to a surf constructed surfer wrapped in wood laminates for improved dampening.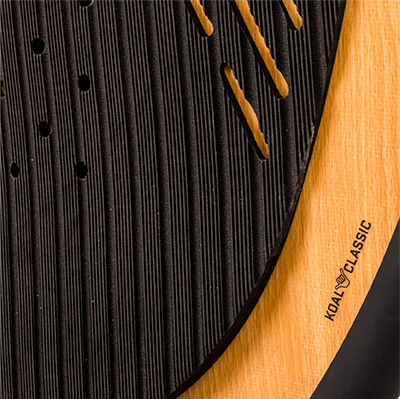 THICKNESS
STANDARD
Added top water speed with increased buoyancy for a rider that wants a traditional surf feel in the waterline.
RAIL
FULL
Smooth predictable arcs for a floaty surf feel.
SKIMMER
A fast, responsive style of board where the rider's position is centered with a more balanced body. These sharp rail, thin profiled boards react quicker for people that don't have a lot of time to waste. Preferred by surfers that like to have more feel with their board itself – and not just on fins. They can break free easier for 360's on the water or shuvits off it. A more forgiving style of board when riding behind a steep wake because you typically ride this style of board at a shorter length (making it less likely to dunk the nose). Because of how speedy these models are – you can get away with a shorter, lightweight length.
HYBRID
For riders that like a little bit of everything. They want to generate power through their bottom turns, but still be able to leave the waterline quickly and easily. A growing style of wakesurfing designed for bigger airs leaving the wake but can still lock in for a proper cutback.

SURF
Toss some buckets with some smooth, linked turns inspired by your favorite saltwater surfer. Traditional surf shapes have a thicker profile and a mellower rail/bevel allowing a rider to pivot a turn more from their back foot and are best ridden with either a deeper fin, or multiple fins. Riders usually apply more pressure on the back half of the board and generate more force through a turn. Still very capable of doing tricks on and off the water – just with a fluid like feel.
Size Chart
Size

(Inches)
Volume
(Litres)
Rocker
(Inches)
Center
Width
(Inches)

Weight Range (lbs)
Based On Avg. Size / Ability / Wake

4'10"
25.3
3.9
21.5
125+
5'4"
27.9
3.9
21.5
150+