SURF CATEGORIES
With all these shapes, sizes, and constructions, how do you decide which one is right for you? The first step is to determine if you are looking for a skimmer, traditional surfboard, or a hybrid deck.
SKIMMER
A fast, responsive style of board where the rider's position is centered with a more balanced body. These sharp rail, thin profiled boards react quicker for people that like to have more feel with their board itself than the fins. These boards break free easier for 360's on the water or shuvits off of it. A more forgiving style of board when riding behind a steep wake because you typically ride this style of board at a shorter length (making it less likely to dunk the nose). Because of how fast these boards are – you can get away with a shorter, lightweight length.
FOUND ON
TYPE 8:12 SKIMMER | BEAUX SKIMMER | CARBON SKIMMER (MEN'S) | CARBON SKIMMER (WOMEN'S) | BLUNT NOSE SKIMMER | FLYWEIGHT SKIMMER | STANDARD CORE SKIMMER | ALPHA SQUAD SKIMMER | KID'S SUPER SONIC SKIMMER
SURF
Toss some buckets with some smooth, linked turns inspired by your favorite saltwater surfer. Traditional surf shapes have a thicker profile and a mellower rail/bevel allowing a rider to pivot a turn more from their back foot and are best ridden with either a deeper fin, or multiple fins. Riders usually apply more pressure on the back half of the board and generate more force throughout a turn. Still very capable of doing tricks on and off the water – just with a more fluid like feel.
FOUND ON
FLYWEIGHT ATLANTIK | FLYWEIGHT PRO DNA | ELEMENT CORE LONGBOARD | KOAL CLASSIC FISH (MEN'S) | KOAL CLASSIC FISH (WOMEN'S) | MARSH "MELLOW" THRASHER | KID'S SUPER SONIC FISH (BOY'S) | KID'S SUPER SONIC FISH (GIRL'S) | KID'S SUPER SONIC POWERTAIL
HYBRID
For riders that like a little bit of everything. They want to generate power though their bottom turns, but still be able to leave the waterline quickly and easily. A growing style of wakesurfing designed for bigger airs leaving the wake but can still lock in for a proper cutback.
FOUND ON
H.O.M.E. CARBON PRO M50 | VOLCOM SEA CAPTAIN | WOMEN'S SEA CAPTAIN | STANDARD CORE BRIGHTSIDE | ALPHA SQUAD SEA CAPTAIN
THICKNESS
The complete line of cross sections. Of course, constructions, profiles, rocker lines and bevels all play a massive roll in transforming how a surfer rides – but varying thickness is arguably the #1 way to alter your ride. We have surfers ranging from as thin as .6" all the way up to over 2" thick. Discover the amount of water stability you can get from a thin profiled board, the increased push from a thicker platform, and all the options in between. We grouped our surfers into 3 different cross sections each catering to a unique approach on the water.
THIN
The thinnest profile for a rider that wants the most feel with the water. Allows the rider to surf more connected with the board, either by using a shallow fin, or no fin at all because the board has so much natural grip.

STANDARD
This thickness is for a rider that just wants the classic feel of a traditional wakesurf cross section – not too thick – not too thin. Offering greater feel for the water than its thicker counterparts, but also has more buoyancy and push than a skimmer.

THICK
The most push of any of our designs. These thicker boards want to jump on the gas in a straight line and can be ridden farther away from the boat.


RAILS
Powerful cutbacks to mellow transitions. 3 different designs for riding styles that range from people that like to bury the rail with a stronger cutback – to those that prefer a shape more suited for a mellow session.
HARD
High Speed carves for riders that like to jump on the gas pedal.

FULL
Smooth, predictable arc for a classic surf feel.

BLENDED
Accelerated turns combined with a Sunday afternoon cruise.

SURF BREAKDOWN
SURF CONSTRUCTIONS
From a smooth flow, to strong contact with the water, to warp speed reaction – we have 9 unique constructions for varying styles of surfers. The most diverse range of cores to help highlight the board's intended riding style.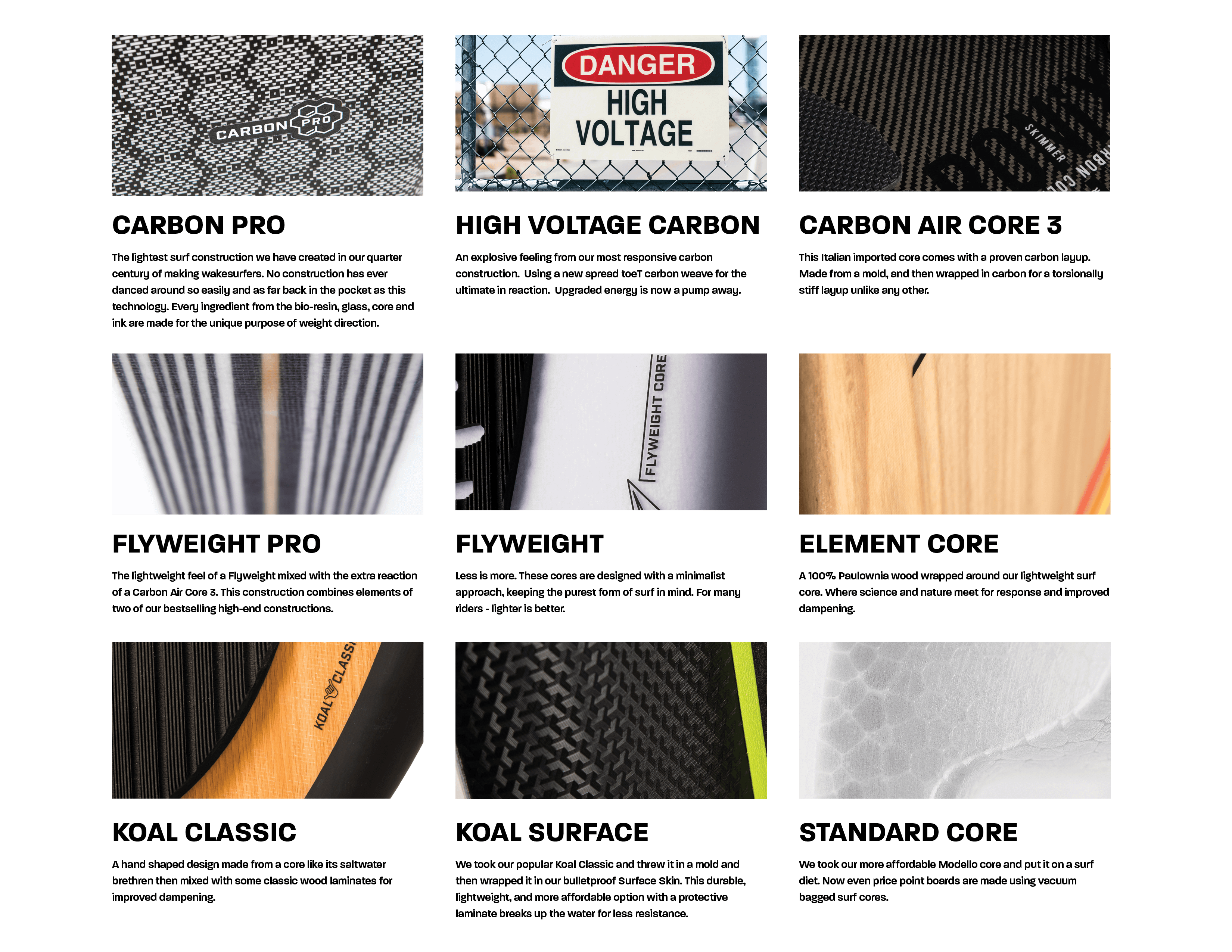 UNIVERSAL TECHNOLOGIES